Ninety-six years ago today, the 1890 Federal Census was nearly entirely destroyed in a blaze at the Department of Commerce Building in Washington DC. The fire raged on through the night and at first it was feared that all census returns from 1790 to 1910 were lost (the most recent 1920 census was in another part of the building). After the massive effort to removed the burnt and waterlogged records from the building in the aftermath of the fire, it was discovered that the greatest loss was the 1890 Federal Census.
Interestingly, not all records were lost, but the existing pages languished in temporary storage and were never really put back into any useful order or condition. As a result, they were placed on a list of records recommended for destruction in 1932, and despite the pleas of many genealogical societies and historians, the remaining returns were destroyed that year. In subsequent years, small fragments that were missed in the destruction were found and eventually microfilmed, so be sure to check that collection to see if your ancestor was one of the lucky ones. A more detailed description of that fateful night and the later destruction of the 1890 census is provided in this article by The Library of Congress.
The loss of the 1890 Federal Census is something every genealogist has grieved at least once in their research. In the words of T. J. Fitzgerald, the chief of the Census Bureau in 1921,
The records destroyed could not be replaced even if we had the entire wealth of the United States at our disposal. There are no duplicates
While there is nothing we can do about it today to save the 1890 census, there is one thing you can do for your own benefit:
BACK UP YOUR FILES RIGHT NOW
We all spend a lot of time gathering and organizing information about our ancestors. Through this process, we collect numerous digital files and data points that could easily be lost in seconds with a single hard drive crash. This best thing you can do to prevent losing this data is to have a regular backup of your research files. There are different levels of backup you can do with your files at home. Ideally, backups are redundant (you have multiple copies), happen automatically (so you don't have to remember), and have at least one copy stored at another geographic location (in case your house catches on fire). Here are a few options:
Copying Files to External Hard Drive
This is a quick way to keep copies of your important files (or your whole hard drive) off of your computer. Fortunately, hard drives are becoming much more affordable, so this can be an inexpensive solution. The drawback to this method is that you have to remember to connect the drive and backup files regularly. It's also best to make a second copy and store it somewhere else, like at work, or a friend or family member's house. This is a lot of steps and things to remember, so it isn't the easiest method.
Cloud-Based File Hosting Services
These sites store and organize any files that you upload and are stored in the cloud so they can be accessed almost anywhere on any device. They often include tools that make sharing and collaborating a lot easier. Most sites have a small limit of free storage and then you can purchase more storage as you need it. These sites are typically just for working files and not total hard drive backups. Popular sites include Dropbox, Box, iCloud, and GoogleDrive. I like Dropbox because of how well it integrates with my laptop and other devices.
Full-Service Backup Companies
Some companies provide cloud backups of your entire computer using their software. You don't have to worry about much, but you are giving a third party access and permission to your hard drive. Also, these solutions can be a little bit more expensive. Here is a list comparing various backup services.
You have to do a little research on your own to find a backup solution that works for you and your budget. Personally, I like to keep all my research files on Dropbox and then my laptop uses Apple's Time Machine to backup to a remote server.
Backing Up Your Family Tree
In addition to backing up your files, another way you can save your research today is to think a bit about the long-term use of the various file formats and places where you store your genealogical data. In 2015, Ancestry announced that they would discontinue Family Tree Maker and many genealogists were left in the lurch trying to quickly find a way to extract their data and migrate it to a new system (before it announced the software was purchased by MacKiev, who continues to administer the program).
There is a multitude of proprietary and open source genealogy programs, most of which have files saved in different formations. Fortunately, most family tree software programs and websites support importing and exporting the GEDCOM file format. The GEDCOM file makes it easier to take the information and relationships for people in your family trees and map this same data to other genealogy programs. Consider occasionally exporting a GEDCOM of your family tree and backing it up with the rest of your files as a failsafe.
To export from Ancestry.com, select your family tree you want to export, go to Tree Settings and select the Export Tree button as shown below.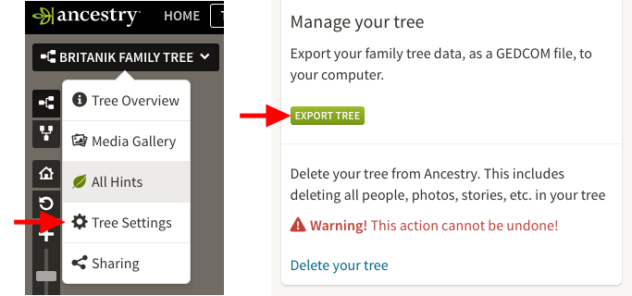 If you don't know how to export a GEDCOM from the website or software you are using, do some quick Googling or contact customer support to find out how. Do it now before you forget!
Now that you have the tools don't let your hour of research suffer the same fate at the 1890 census!