Ben was told that his great-grandfather, Clifford Bailey, was a plantation owner in Malaya. He and his family were unable to find any conclusive documents supporting this story, but they do have a lot of anecdotes from his grandmother, as well as some old photographs that were supposedly taken in Malaya.
He believes that Clifford and his great-grandmother, Alice Barnes, were married there, but from some family photos, he suspects that Clifford may have had a previous marriage. The family legend also suggests that Clifford spent most of his life in Malaya and that he came back to England around the time World War II started. His grandmother said Clifford invested a lot of money in Japanese businesses and as a result lost a lot of money during the war.
Clifford was born in 1889 in Looe, Cornwall, England and he was the son of Arthur Bailey, who was in the British military. Clifford had eight siblings, most were born in England, however one was born "Banif" and another at "S.S. Penang" which may suggest he was born on a passenger ship. Once grown up, several of his siblings also lived in Malaya.
The Research
First, I did a search of passenger lists for Clifford Bailey to see if there was any evidence that he traveled to Malaya. I quickly found several promising records. Below is a timeline of Clifford Bailey's travels in chronological order:
On 17 November 1910, a C. Bailey, who was over the age of 12 departed from London sailing to Penang, Malaya for 60 days aboard the S.S. Nubian. There isn't a lot of detail on this passenger list, but it is possible that this is a record of Clifford Bailey. He would have been about 20 years old in 1910 and I was unable to find a record of him in the 1911 U.K. Census so he may have been out of the country by then.

On 8 January 1922, Clifford Bailey left the Port of London to travel to Yokohama, Japan and later to the port of Penang in the Federated Malay States (F.M.S.) where he intended to live. He was 31 years old at the time, and his occupation was listed as a Planter. His previous residence in the U.K. was 11 Beech Terrace in West Looe. His last residence was listed as a "British Possession," meaning that he likely lived abroad before this date.

It's interesting to note that on a later page of this ship's manifest, another person was traveling from 11 Beech Terrace in West Looe. Her name is Mrs. Minnie George. From the information Ben provided me with, I know that this is Clifford's sister who married Arthur George. Minnie's final destination was listed as Kedah, which is different than the F.M.S. listed on the entry for Clifford.

On 3 July 1925, Clifford and Alice Bailey arrived in London (continuing to Plymouth) from the port of Yokohama in Japan. Their original port of departure was Penang, and they were residents of the Federated Malay States. Clifford's occupation was listed as Planter. According to the ship manifest, they were traveling to West Looe, Cornwall, England and it was their intended permanent residence.

On 6 November 1925, Clifford and Alice Bailey returned to Penang departing from the port of London. Clifford was listed as being 35 and Alice was 26 years old. Clifford worked as a Planter, and their last residence in the UK was 2 Hillside, Cromwell Road, Parkstone, Dorset.

It's interesting to note that Clifford's sister older sister Minnie (Bailey) George joined him and Alice on this same trip. Again, her final desition was listed as Kedah, and she was traveling without her husband.




On 3 August 1928, Clifford, Alice, and their 5-month-old son, Gordon arrived in London from the port of Kobe, Japan. Once again they were going to 2 Hillside, Cromwell Road, Parkstone, Dorset. Clifford's occupation was listed as Rubber Planter.

On 2 March 1929, he once again embarked on the journey from London to Penang by himself. He was now 39 years old and still working as a Planter in Malaya. This time his list permanent residence was listed as 4 Cromwell Road in Upper Parkstone.

On 10 August 1930, Clifford arrived in London from the port of Yokohama in Japan. His first departure was Singapore and he was last a resident of Malaya. Clifford's occupation was still listed as Planter, and his final destination in England was 4 Cromwell Road Upper Parkstone in Dorset.

From these passenger lists, we have pretty good evidence that Clifford Bailey worked as a Planter in the Federated Malay States (F.M.S.). The F.M.S. was established in 1895 by the British government when colony known as the Straits Settlements was divided into two regions; the Federated and Unfederated Malay States.  In the prelude to World War II, the Japanese invaded the peninsula in 1941, and they maintained an occupation until the end of the war.
Clifford's Connection to Malaya
In doing a little more searching for records of Clifford, we see that his connection to Malaya likely came from his other family members including his father, Arthur Bailey. From this 1891 census record, we learn that two of Clifford's older siblings, Herbert and Cyril Bailey were born in the Straits Settlements.

In looking for records of Arthur Bailey's time in the Straits Settlements, I found birth records for his oldest two sons. According to the entry recorded in a collection of British Military Births Overseas, Herbert Henry Bailey was born on 7 May 1877 in Penang, Straits Settlements, to his parents Arthur and Maria Bailey. Arthur was a Sergent in the 22nd Brigade of the Royal Artillery. I also found an entry for Cyril, which shows he was born on 3 March 1880 in Penang and this record is accompanied by a duplicate record of Herbert's birth. It seems likely that the birthplace listed as S.S. Penang in Ben's own research was likely reffering to "Straits Settlements, Penang" rather than a name of a ship.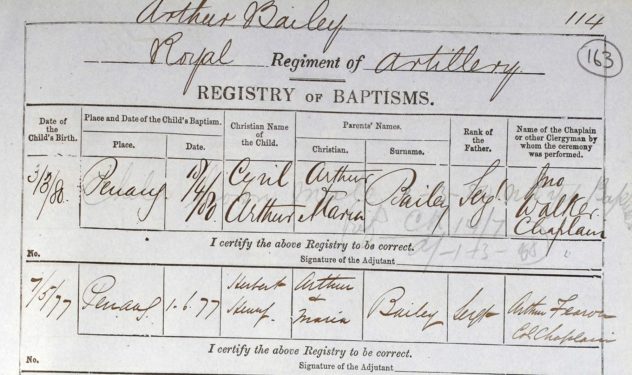 Birth Registry Entries for Cyril Arthur and Herbert Henry Bailey in Penang.
I also found orders, which show that in 1876, 99 men from the 2nd Battery of the 22nd Brigade of the Royal Artillery were sent to the Straits Settlements. This is likely a record of when Clifford's father first went to Penang.
Another connection to the Malaya peninsula I found is that Clifford's brother-in-law, William J. Ryan, worked in Civil Service in Singapore. In 1911, he was living with Clifford's parents at 11 Beech Terrace in 1911.
As noted above, Clifford's older sister, Minnie Florence (Bailey) George, is another family member that consistently traveled to Malaya. Interestingly in all the passenger lists we found, she is never traveling with her husband. Ben provided me with a family tree, which shows that her husband was Arthur George who worked a mining engineer for rubber planters, but I was unable to find any promising records of him. It is likely that if Minnie immigrated to Malaya with her husband, this was a probable reason for Clifford to follow. It seems like once they were on the Malaysian peninsula, the siblings lived in different areas. Minnie's passenger list entries show her destination as Kedah, one of the Unfederated Malay States, whereas Clifford's final destination was always listed as the Federated Malay States.
I also gleaned more information about Clifford from the 1939 U.K. Register. This document shows that in that year he was living in Poole, Dorset, England with his wife, Alice M. Bailey and two of their children (one entry for the family is still restricted). He was listed as unemployed and worked previously in Rubber Plants.

Entry for Clifford and Alice Bailey in the 1939 Register
I was unable to find a record of their marriage in the collections of the General Registers Office (including overseas records), I did, however, find an unsourced Ancestry.com family tree, which states that they were married on 28 January 1925 in Sitiwan, Malaysia. I'm usually wary of facts from unsourced Ancestry.com user submitted trees, but this date is so specific, and it is only a couple of generations back, I think it's worth looking into. To accomplish this, I decided to search for more records of Alice Barnes before their marriage.
In my search, I found one interesting passenger list. On 23 May 1924, a Miss Alice Barnes was departing from the port of London to Penang, and her intended foreign residence was the Federated Malay States. She was 25 years old at the time, and her occupation was listed as a nurse. She was traveling with an Adelaide Goodwyn and her two young children, Veronica and Barry. It is likely that Alice was a hired nurse hired to look after the young children.

Passenger List Showing Alice Barnes Traveling to F.M.S. with the Goodwyn Family
A little more research reveals that Adelaide was married to Harold Goodwyn a rubber planter in Malaysia. According to this announcement published on The Singapore Free Press and Mercantile Advertiser on 12 April 1923, Mr. and Mrs. Harold Goodwyn had a son at the Maternity Hospital in Penang, but they were residents of Sitiawan. This gives more credence to the fact that Alice and Clifford were married in Sitiawan since Alice's employer lived there.
It seems likely that Clifford and Alice were married inSitiawan in early 1925 given the records we have for them including passenger lists showing the birth of their son. This is also supported by the caption accompanying the family photo displayed at the top of this post, which according to Ben states "Clifford and Alice Margaret (Maggie) Bailey in a Morris Bullnose Cowley four-door tourer. The dog was called Bill Bailey. Sitiawan Peninsula, Malay possibly 1926." I did not find any evidence that Clifford was married before he met Alice Barnes.
To try and find an actual record of Clifford Bailey in Malaya, I also did a search of the newspapers of the digitized newspapers from the National Library of Singapore. In doing this, I did find one possible reference to a C. Bailey who was living in Sitiawan. He was a member of the District Club, and he donated $2 to the Japanese Relief Fund in October of 1923.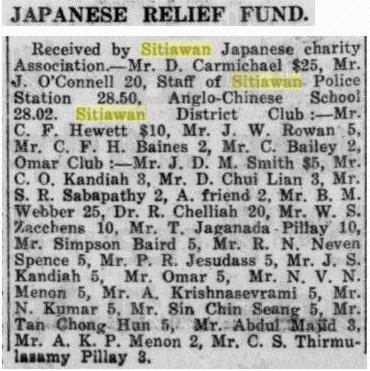 "Japanese Relief Fund" The Straits Times, 27 October 1923, Page 10. Image via the National Library of Singapore.
While we can't be certain that this C. Bailey is actually Clifford Bailey, the timeline and place are correct. Also, this is funny given the family legend is that Clifford invested in Japanese businesses and lost money during the War. While it isn't a significant investment, he did donate money in support of the Japanese.
While I was unable to find a record of their marriage or the birth of their son in the indexes of the General Register Office I did find promising entries for each of their deaths. It seems like Alice died in the first quarter of 1955 in Poole, Dorset, England at the age of 56 (vol. 6a pg. 635). Clifford died in the third quarter of 1963 also in Poole, at the age of 73 (vol. 7c pg. 641).
The Verdict
Ben's granny is definitely NOT a liar. We found substantial evidence through ship passenger lists that his 2nd great-grandfather was a rubber planter in the Federated Malay States. From what we found it seems like Clifford was in Malaya from at least 1922 (possibly 1910) and until sometime in the 1930s. We also found that Clifford and Alice Barnes were likely married in the Federated Malay States in early 1925. It also seems likely that their son, Gordon, was born there too, but came to live in Poole in Dorset when he was young.
Research Notes
This turned out to take much longer to research than I initially thought. I spent a lot of time combing through records in Malaya, such as the official Government Gazettes and indexes of colonial records. I didn't have much success in finding many definitive records of Clifford and Alice recorded in the Federated Malay States. There are several reasons for this. First, I think that a lot of the records are not digitized and easily accessible online. It is possible that more records of Clifford Bailey can be found in the colonial records kept at the British Archives or perhaps the Malaysian Archives. I also discovered that there were several other Bailey families living in the F.M.S., including two prominent rubber planters (William "Tim" Bailey and H. G. Bailey). Unfortunately, I could not make a definitive connection to Clifford Bailey.
Another roadblock I encountered was the fact, The University of Malaya has an online database called the "Common Repository," which holds copies of historical publications from the Federated Malay States. Unfortunately, the site went down early in my research and has not returned since.
A final challenge is the fact that many of the digitized newspapers and records of the Federated Malay States used only initials for given and middle names. I had never seen a middle name for Clifford and searching for C. Bailey did not return many useful results. I think with more time and effort it is possible to find more records of Clifford and Alice Bailey's life in Malaya.