As the holiday's approach, people will be spending more time with family getting together to share stories and reminiscence over old photographs.
Picture this: you are at your Aunt Sally's house for the holiday's and Uncle Jim pulls out the old family photo album. Everyone gathers around and discusses who has great grandma Ethel's big nose and Uncle Rufus's crooked eye. You want to keep a copy of some of the photos for yourself to connect to your Ancestry.com account, but there isn't a scanner or copier. Fortunately, thanks to recent improvements in the camera capabilities of smartphones, it's easier than ever to get a decent quality copy of the photo. Here is a review of some options that you have.
---
Cost: Free
Platform: Andriod & iOS
More Info: https://www.google.com/photos/scan/
The app captures images by first having you take an image of the entire photo and then app directs you to match two circles together to capture each of the four corners of the photo. This promotional video by Google demonstrates how it works:
Pros:
Corrects for uneven lighting and removes glare.
Automatically crops and straightens photos.
Integration with Google Photos – This is one of the most useful things about this app. Google Photos uses machine learning to help identify people and objects that appear in the photos. This functionality will automatically allow you to search for a photo using basic terms like "girl," "house," or "dog."
Cons:
It takes some time to process a photo. Longer than it took in their video.
Color tends to be inaccurate.
It downsizes the image to 2000 pixels on the longest edge. This limits you to high-quality prints that are only 6″ on the longest edge.
---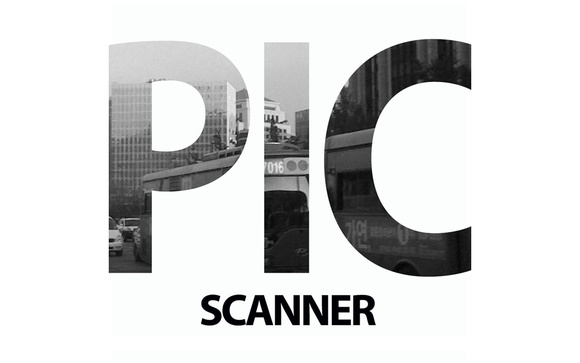 Cost: Free limited version. $1.99 for the full version.
Platform: iOS only
More Info: https://itunes.apple.com/us/app/pic-scanner-scan-photos-albums./id644278663
PicScanner is a little easier to use than Google PhotoScan. All it takes is aligning the photo on the screen and then clicking a button. The app with automatically crops and straighten the photos, but you can also access the originals too.
Pros:
In general, color seems more true to the original photo.
Easy and quick to use. You can digitize a photo in just a few seconds.
You can capture more than one photo with one click.
Cons:
If you do scan more than one photo at once, the resolution will be smaller, and you can't get as high-quality prints.
---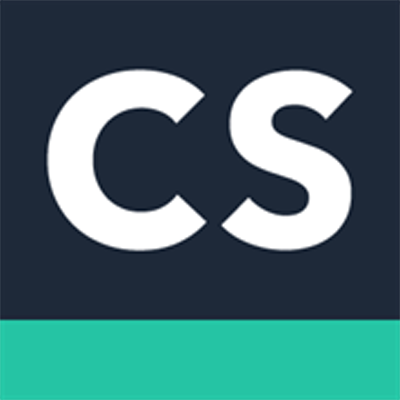 Cost: Free limited version. $4.99 for the full version.
Platform: Android & iOS
More Info: https://www.camscanner.com
CamScanner works similarly to PicScanner for creating copies of original photographs. In addition to digitizing photographs, it's perfect for making copies of documents and pages out of books. I use this all the time when I go to libraries and special collections to do genealogy research. You can straighten pages right in the app and save it with various corrections to make sure the content you need is legible and easily transferred or shared with other devices.
Pros:
Maintains original resolution of the phone's camera.
Easy to use with many different options for saving and sharing.
Useful for more than just photos, like digitizing documents, original records, and books.
Cons:
Works best if the premium version is purchased.
---
Built in Camera
If you don't feel like getting a special app to do this, you can even get surprisingly good quality if you just snap a picture in good, even lighting. This may be the best option if you have image editing software on your computer to straighten and crop the photos later. I found that out of all the apps, using just the camera app on my iPhone 6 gave me the highest resolution and the most accurate color.
---
Summary
The app you choose depends largely on what you'd like to do with the photos. If you just want reference images that are easily retrieved, Google PhotoScan may be the best option. If you want good quality photos, but don't want to take the time to individually edit each one, Pic Scanner or CamScanner is probably your best option. If you want high-quality photos that you plan to print and frame, your regular phone camera may be the best bet if you are familiar with photo editing software.
Here is an image showing all of the resulting photos from each app side by side. Images are proportional to the resulting resolution; you can see how Google PhotoScan and CamScanner reduce images slightly. CamScanner and just using the iPhone 6 camera had the most accurate color.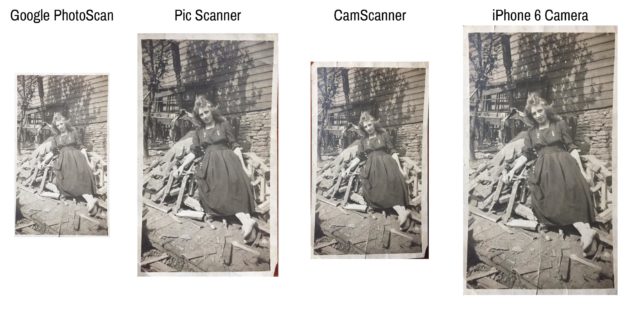 General Tips
Good, even lighting is essential. Typically natural light is the best light source for digitizing with a smartphone. Placing the photos on a desk or end table by a window works well for this.
Resolution and quality matter. Think about what you want to use the photos for before choosing a digitizing technique. For example, a full picture from iPhone 6 can print high-quality 8″x10″ photographs. You should have a resolution of at least 300 dpi to print a high-quality photo. Learn more about photo resolution here.
Consider how to organize and label the photos. Unfortunately, some of these apps are lacking the capability to name files and tag the photos with metadata. As you take photos, try and record who is in the photos and when and where they were taken if known. If you can, use this information to create unique file names or add descriptive metadata into the photo.